MEETING QUALTROUGH RELLIES ON MY TRAVELS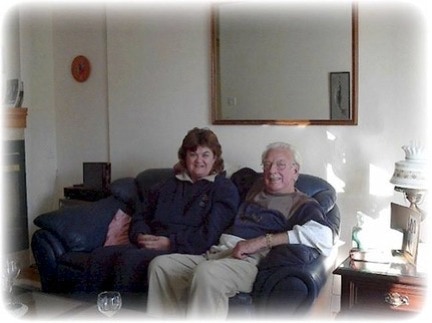 A recent trip to Canada and the US (September- October 2004) gave me the opportunity to meet someone who has been a great supporter of my Qualtrough genealogy interests over the past few years.
Lorne MacDougall of Ottawa, I have come to know well over the past 4 years and while I lived in Australia we were in contact frequently by email, instant messenger and phone. My move to the Isle of Man in 2003 has seen the contact continue, perhaps to a lesser degree than previous, however that has not diminished Lorne's enthusiasm for things Qualtrough and is always checking the website when new additions are made.
I was also able to speak to Lorne's brother Ken on the phone, but time did not allow a meeting however. Ken lives in Hull, across the Ottawa River in Quebec.
Lorne and Ken's mother was Rhoda Eastham, daughter of Eliza Ann(i)e Qualtrough and William Darbyshire Eastham. Lorne celebrated his 85th birthday on October 6, the day after my visit. It was great to meet with you Lorne after all our communication of recent years. I would like to thank Lorne's daughter, Shirley Bradley of Colorado Springs, Colorado, USA, for preparing the photo for uploading to the website.
(I had hoped to make contact with Qualtrough relatives during my brief stay in Toronto, however a minor ailment and time did not allow this to come to fruition. Perhaps next time, folks!!)
Elizabeth Feisst
Isle of Man
October 2004
© 2021 by Malcolm Qualtrough, Elizabeth Feisst and the late John Karran Qualtrough. 
Hosted by Ask Web Design, Isle of Man.